San Francisco Document Shredding will provide a self-contained, high speed mobile shredding service option that comes out to your Northern California office. Your confidential records are efficiently and securely destroyed without any slow down to your normal business functions.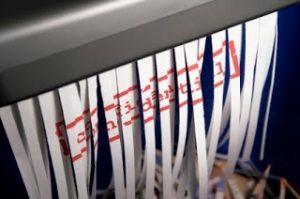 You save time, expense, and labor. This is done with far better security than a simple office shredder. You receive a cost-effective option to buying machines that use space and require trained employees to operate.
Why take a risk? Shred it. You receive a Certificate of Destruction for every job.
Every San Francisco business, no matter the industry, holds information that needs to be safeguarded and protected. Whether it is you customer or employee information, we can help you ensure it doesn't end up in the wrong hands. Here's a list of some of the documents you may have that need to be protected:
Accounting Documents:
Accounting Records
A/R and A/P printouts
Bank Statements
Budgets
Unused Checks
Customer Lists
Credit Card Statements and Receipt
Employee-related Documents:
Any document containing employee addresses or personal information
Training Manuals
Outdated Medical Records
Payroll Documents
Personnel Issues
Legal Documents and Documentation:
Expired Contracts or Legal Documents
Insurance Agency Records
Legal Correspondence
Sales/Marketing Materials:
Customer Lists
Prospect Lists
Drafts of Sales Strategies
Operations Information:
Proprietary Data
Purchase Orders
Supplier Lists
Corporate Records
Procurement Requests
This is not an exhaustive list of everything you might find in your office that needs to be protected. Implement a destruction plan today to ensure the safety of all your employee's and customer's private information.
 Get Free, No Obligation Quotes on Secure Document Shredding Services in San Francisco today!
If you're in Northern California and have sensitive data that needs to be protected or destroyed, we have just the services you need. To learn more about the available shredding service options at San Francisco Document Shredding, either give us a call at (415) 704-8970, or request a FREE quote today.